Kaliyug me sabhi papo ka nash karne wale aur sabhi manokaamna ko poora karne wale Hanuman Chalisa ka path yu to sabhi bhakt apne ghar par karte hai kintu kya aap jante hai Hanuman Chalisa ko bhi Sidhh kiya ja sakta hai. Vaise to sabhi Hanuman Bhakt apne ghar par hi prem bhav se hanuman chalisa ka path karte hai kintu agar aap chahte hai Hanuman Chalisa se poorn fal ki prapti, to aapko Hanuman Chalisa ko sidhh karna hoga. 
Shree Ram Bhakt Hanuman ji vaise to thodi si pooja se hi prassn ho jate hai kintu inki pooja me vishesh roop se aapko pavitrata ka dhyan dena bahut jaruri hai. Agar aap Hanuman ji ko prasann karne ke liye unki koi bhi sadhana karte hai to  bhramcharya ka palan karna sabse prathmik ho jata hai. Aaj ham aapko Hanuman Chalisa ko ek hi din me Sidhh karne ki vidhi ke vishay me jankari dene wale hai | 
Vaise to Hanuman Chalisa ka pratidin path karne se Hanuman ki krapa aap par hamesha bani rahti hai , kintu agar aap Hanuman Chalisa ko Sidhh kar lete hai to iska fal aapko poore jeevan bhar milta rahega |  ⇒  हनुमान यंत्र को इस प्रकार से सिद्ध कर घर में स्थापित करें और पाए सभी कष्टों से मुक्ति 
Hanuman Chalisa ko Sidhh karne ki  Vidhi :-
Aap Mangalvaar ke din subah 7 AM se pahle Hanuman Chalisa ke path karne ki vidhi suru kar de. Dhyan de subah 7 baje se pahle kyonki iske baad Rahu Kaal suru ho jata hai Rarhu kaal me kisi bhi karya ko nhi krna chahiye isse karya ka poorn fal prapt nhi hota hai. 
Ek chouki ki sthanpa kar us par Hanuman Ji ki pratima rakh de aur chouki ke dahini(write) side me ek mitti ke klas ko pani se bharkar rakh de aur us klas par ek Nariyal bina pani wala jisko hilane par avaaj aati ho ek Nariyal lekar , is Nariyal par ek laal kapda lapetkar ese ek naal(laal dhage) se baandh de aur ab is Nariyal aur laal kapde ko is mitti ke klas par sathipit kar de.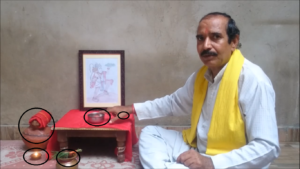 Esa karne ke pashchat aap Hanuman ji pratima ke daahina side hi jaise ki image me dikhaya gya hai ek mitti ek diye me deepak jala le aur Hanuman ji ki pratima ke aage ganesh ji ki sthapna kare( Ganesh ki sthapana ke liye aap ek mitti ke chhoti se dali lekar ya kisi Supari par noli ko lapet de aur ise Hanuman ji pratima  ke samne sthapit karen. Aur pratima ke aage thode se chawal rakh de (ye chawal Pitra Dev ke liye hote hai ) aur ek plate me aap thodi si roli(kumkum), chawal, aur thoda sa meetha(chini ya mishri ke daane) le kar rakh le, ek  loute me paani bhar le aur thodi si doob(khaas) rakh bhi sath me le le. Es prakar aap aap Mangalwar ko Subah 7 Baje se pahle is parkar ki vyavastha kar ke rakh le. 
Ab sabse phale aap loute ke jal me thoda sa gangajal milkar ab is doob(ghaas) se sabhi jagah pani ke chheete laga de aur cheete lagate samay mukh se ye bole ( Hey prabhu mai apni sabhi Dishao ko pavitra karta hu ) | Ab prithivi ko hath se chhu kar apne mathe se teen baar lagaye aur bole Om Aadhar bhoome namah, karam bhoome namah, janm bhoome namah  | Ab loute me se ek chhammch(spoon) dwara thoda sa jal apne hath me lekar pee jaye aur peete samay mukh se bole om Naraina Namah. Ab doobara se ek spoon jal pee jaye aur bole om Keshway namah. Ab ek baar aur ek spoon jal pee jaye aur bole om Govindaay Namah | Ab hath me thoda se jal lekar hath ko dho le. 
Ab aap esa kahte hue Ganesh ji ka aavaahan karen — Hey Shree Ganesh aap aao aur apne sthan par viraajmaan ho jao . Ab mitti ke klas ki aur hath karte hue bole– Hey Varun Dev aao aur apna sthaan grahan karo  | Ab Hanuman ji ki pratima ke aage jo chawal rakhe the vah Pitra dev ka sthan hai to ,, ab apne hath dwara in chawal ki taraf ishara karte hue bole Hey Pitra Dev aao aur apna sthan grahan karo | Ab agar aapne koi Guru banaa rakha hai to uska aavahana kare nhi to Bhagwan Shiv ko Guru maankar unka aavaahan karen –Hey Gurudev aao aur apna sthan garahan karen | Ab aap pradhaan dev Hanuman Ji ka aavaahan kare – Hey Hanuman Ji aap aao aur apna sthan grahan karo aur is Mantra ka uchaaran karen :-
ॐ अतुलितबलधामं हेमशैलाभदेहं, दनुजवनकृशानुं ज्ञानिनामग्रगण्यम्
  सकलगुणनिधानं वानराणामधीशं,रघुपतिप्रियभक्तं वातजातं नमामि |
Ab aap Ganesh ji(Sabhi Dev), Pitra Dev, Varun Dev aur Hanuman ji jinki sthapna ham kar chuke hai unko sabhi ko thode thode chawal arpit karen | Aur kumkum dwara tilak karen, tilak  karne ke baad bhi thode thode chawal chhod de. Ab chini ya mishri ke daano dwara sabhi devo ko bhog lagaye. Ab aab yadi Pushap hai to vah bhi sabhi ko arpit karen. Fal hai to vah bhi sabhi ko arpit karen | 
Ab aap hatheli me thode se chawal lekar sankalp le . Sankalp me aapko bolna hai – Hey Parampita Parmeshwar Mai(apna naam bole aur apna gotra bole) Hanuman ji maharaj ki Hanuman chalisa ko Sidhh karna chahta hu, Hey Parampita Parmeshwar aap mere karya me poornta pradaan karen aur koi galati ho to  shma karen ese bolte hue hatheli ke chawal ko ganesh ji par chhod de | 
Ab aap Hanuman Chalisa ko hath me lekar ise naman karen aur is mantra ko bole :
ॐ नमो देव्यै महादेव्यै शिवायै सततं नमः ।
नमः प्रकृत्यै भद्रायै नियताः प्रणताः स्मताम् ||
Ab Hanuman chalisa ko naman kare aur ise tilak kar de. Ab aapko Hanuman Chalisa ka path 121 baar karna hai | Aap Hanuman chalisa ko pahle kanthast(yaad) kar le isse aapke 121 path thode jaldi poore ho jayenge | Ek baat ka dhyan de aapko ye path Subah 7AM se pahle Suru kar 3Pm se pahle samaapt karne hai , kyonki 3PM ke baad fir se Raahu Kaal aa jata hai. Ye jaruri nhi ki aap 121 path lagatar karen. Aap beech beech me jab bhi aap thakaan mahsoos karen uth sakte hai kintu aasan chhodne se phale aapko is prakar karna hai — hatheli me thosa sa jal lekar ye bole – Hey parampita parmeshwar maine Hanuman Chalisa ki sidhhi ke liye jo path kiye hai inhe mai shri Brmh ko arpit karta hu aur jal ko neeche jameen par chhodte hue ye bole Om Vishanve namah , Om Vishanve Namah, Om Vishanve Namah | ab aap apna aasan thoda sa mod kar uth sakte hai. 
Ab aab lagbhag 15 ya 20 minute baad jab bhi doobara se baithte hai to ab aapko kisi bhi vidhi ko fir se karne ki aavshaykta nhi hai bas sirf sankalp lekar path suru kar dene hai | Sankalp ke liye aap hath me chawal lete hue is prakar bole — Hey parampita parmeshwar Mai(apna Naam aur Gotra) Hanuman ji Maharaj ki Hanuman Chalisa ko Sidhh karna chahta hu , aap mere karya me poornta pradaan karen aur koi galati ho gyi ho to muje shma karen. Ab aap chawal ko ganesh ji par chhod de. Is prakar aap jab bhi baithe path ke liye isi prakar sankalp se suru karna hai aur jab bhi aasan se uthe to isi prakar sankalp dwara apne path shri brhm ko aprit karke uthe. 
Ab aapko batate hai ki aapko hanuman chalisa ka path kaise karna hai | 21 baar Jai Shri Ram  bolkar aap hanuman chalisa ka path suru karen aur jaise path poora ho jata hai aap fir se 21 baar Jai Shri Ram bole | Is prakar aapko har baar path ke suru me aur ant me 21 baar Jai Shri Ram ka jaap karen aur man lagakar apne 121 path ko poora karen. Apne path poore krne ke baad aap hanuman ji ki aarti karen. Is prakar Hanuman Chalisa Sidhh ho jati hai . 
Hanuman Chalisa ke Sidhh hone par aap iska kahi bhi kisi bhi karya me ya karya ko suru karne se pahle man hi man path kare aur fir dekhe chamtkaar. Yadi aap kisi bhay se praeshan hai to is path ko Sidhh avshay karen aapko kabhi bhay nhi lagega. 
Hanuman Chalisa Siddhi ke liye aap ye video dekhe :- हनुमान चालीसा को एक ही दिन में कैसे सिद्ध करें ?
Aapko ye jankari kaise lagi aap hame apne vichar  comments dwara share kar sakte hai. Adhik Jankari ke liye aap Sampark kare uLtimate Gyan.
|| ॐ श्री हनुमते नमः || 
---